Academic Enrichment Center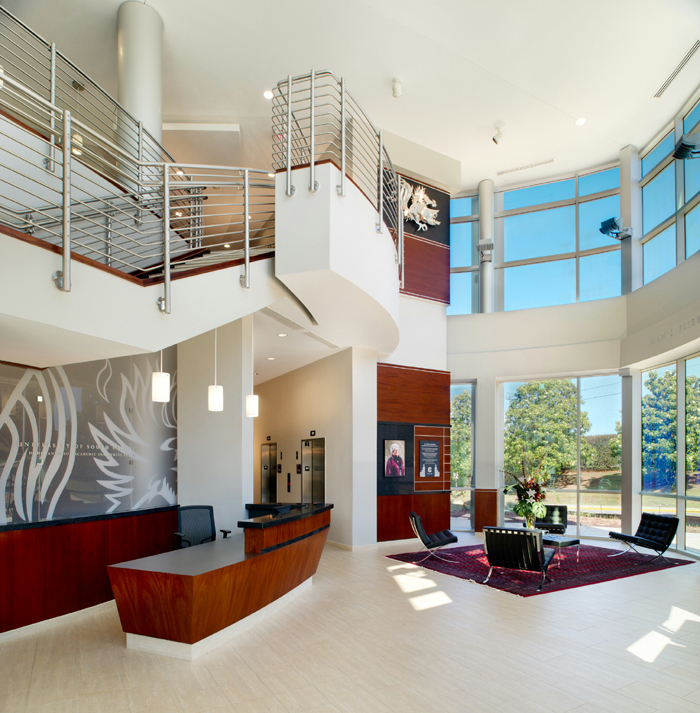 JHS Architecture was selected in 2007 to design the first building, The Academic Enrichment Center, for what will become the renovated site for the University of South Carolina Athletics. This area has been traditionally recognized as the "Roost". It is now conceived to be a series of new buildings housing numerous functions associated with athletic administration, sports medicine, indoor and outdoor practice facilities and the Academic Enrichment Center. The AEC project is envisioned as a premier facility to provide an environment to assist athletics success in their academic studies. The building is envisioned by the staff as dramatic and filled with natural light. JHS Architecture and key staff from the Athletics Department traveled to numerous competing institutions to tour their facilities to ensure that the AEC at USC would be respected among the very best facilities in the SEC for both functionality and image. To accomplish this, the building was placed at the entrance to what will become a significant courtyard. In this manner the building will form a prominent gateway to the new Roost.
The building comprises approximately 45,000 square feet within three floors and a partial basement. The program includes a dynamic two story lobby and an Academic Hall of Fame at the first floor. The first floor also provides a full service cafeteria with dual purpose dining/multi-purpose rooms that accommodate 200 students. The academic mission is accomplished with the combination of numerous tutoring rooms, seminar rooms, computer labs and staff offices and support areas. The upper two floors each have a large study room that provides lounge seating, study carrels and tables for individual and group study. These rooms front the future courtyard and have extensive glazing for a transparency to the courtyard. The study spaces also afford views to the practice fields and Williams Brice Stadium to the south and the University to the north thereby linking athletics with academia. The exterior employs a combination of cast stone, beige brick masonry and high performance glass. The façade attempts to use rhythms and proportions that are traditional but the detailing contains contemporary gestures as well. The theme of movement and grace, naturally associated with athletics, is expressed through curving forms on both the exterior and the interior.